With a new beginning comes a new set of Rainbow Six Siege esports drama. The North American pro scene and community have been thrown into confusion with many looking for answers from Ubisoft in regards to changes made to the esports scene moving forwards. With orgs being forced to leave, and players left out in the cold, there's a lot to unpack here. Let's take a look at the latest set of Rainbow Six esports drama to hit pro players and fans.
Where do we start?
Ubisoft announced major changes to the Rainbow Six pro scene at the Six Invitational in February. This involved more support for national leagues in Europe, a Canadian Nationals league, and changes to scene structure in Asia. The biggest change for North American fans came with the announcement of the North American Pro League becoming a LAN-based league. Teams would move from the current online league to playing matches out of an arena in Las Vegas. That's where issues began to emerge.
Leak accounts on Reddit and Twitter began murmuring about Luminosity and Evil Geniuses. These accounts claimed that EG and LG were going to drop the R6 rosters as the orgs did not want to get involved in the LAN aspect of the planned North America League. However, Ubisoft and the orgs stayed quiet, with fans wondering when the shoe would drop.
It dropped on Tuesday night, and boy did it make noise.
Players break their silence on Rainbow Six esports drama
Luminosity's captain Kian "Hyena" Mozayani broke the silence with a Twitlonger statement. He detailed that talks between LG and Ubisoft had broken down regarding the LAN league. This had left Mozayani and his teammates without any info as to where they stood in the R6 esports scene.
"Ubisoft delayed our meeting multiple times, leaving us in the dark not knowing if we should pack up and leave our team house," Mozayani stated. "After threatening to go public with Ubisoft's blatant lack of respect for us as players and individuals, [Ubisoft esports director] Robb Chiarini finally decided to give me a call and basically said I was being disrespectful toward Ubisoft employees."
Mozayani goes on to say that the team believed they would have the right to the spot in the new league based on the rules of ESL Pro League. Players were allowed to keep the league spot as long as three fifths of the roster stuck together. It would appear under the new league system that this is no longer the case, according to Mozayani.
"Last time I checked, placing 6th is out of the relegation zone and keeps you your pro league spot. Apparently not anymore. So I guess Ubisoft has just straight up kicked us out of pro league," he said in his Twitlonger post.
Ex-Evil Geniuses, Reciprocity players also left in the lurch
Austin "Yung" Trexler is one of pro R6's veterans. He's been around since the first season of PC Pro League and was a part of one of the best North American sqauds for several seasons. After Mozayani broke his silence on Tuesday, Trexler spoke out on Wednesday about the rumors surrounding the team.
On that note the team plans on sticking together as of now. So we are looking for an org. We are currently not in PL from my understanding. I don't know if that changes if we manage to get an org or not. Nothing has really been communicated to us well.

— Yung (@Yung_R6) April 15, 2020
Both Nathan "nvK" Valenti and Ammar "Necrox" Albanna were both quite direct in calling out Ubisoft for poor communication. Luckily for EG, Trexler and co. will stay together in hopes of being picked up for the new LAN league. Still, it's left a bitter taste in the mouth of fans that even some of the biggest veterans of the scene aren't being fully informed of the changes around them.
Team Reciprocity's roster is also left without an org heading into the future of Rainbow Six. The team's CEO announced in March that the R6 squad would be released as a result of a changing financial outlook for the org due to COVID-19. Assuming the players are in the same situation as the folks from ex-EG and ex-LG, ex-REC players also find themselves without a stable future. At this point in time, 3/8 of Pro League rosters are currently out of the newest iteration of the pro scene, with no decisive word from Ubisoft.
Where does Rainbow Six esports go from here?
At this point, the biggest concern for Ubisoft should be this: clarity. Ubisoft had previously faced criticism for nixing the promotion aspect of Challenger League. Rumours swirled that Disrupt Gaming and Susquehanna Soniqs would be hand picked for the next form of pro league. This completely negated the point of Challenger League's regulation system and left fans confused and CL teams wondering if it was even worth playing the season out. When Ubi released a statement regarding R6C this drama was not addressed; however, the company did state that more info would be available soon.
Fast forward, and the community has once again been whipped into a fury by Rainbow Six esports drama. You have players making explosive Twitlonger statements and leak accounts claiming things left and right. When Ubisoft finally made a statement regarding REC, LG and EG on Wednesday, it left more questions than answers.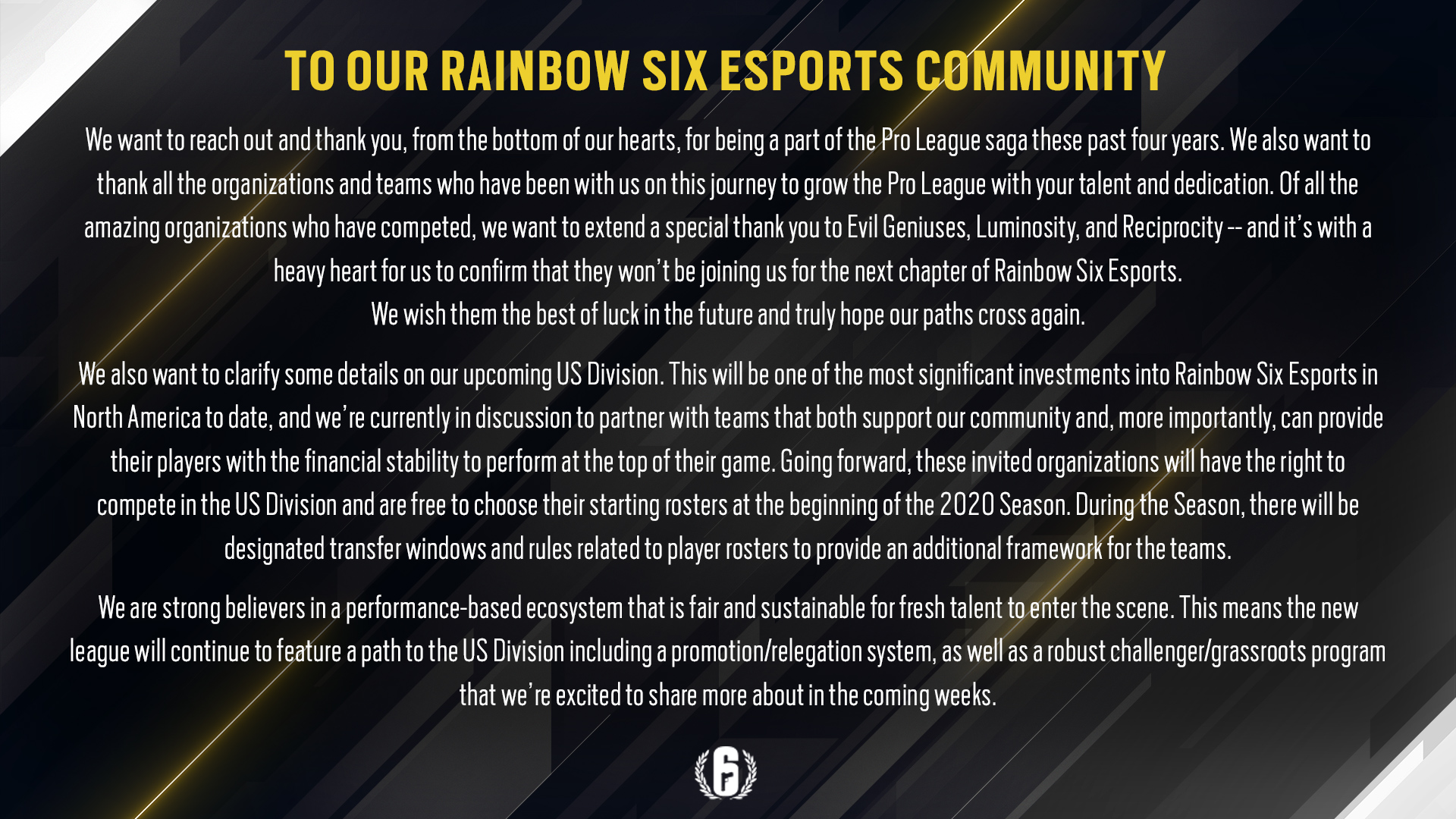 Ubisoft took time to mention the three teams' departures. However, the company did not mention any of the statements from the ex players of those orgs. These are talented players who will hopefully be picked up by future teams looking to expand into Rainbow Six.
The line in this statement regarding being "in discussion to partner with teams" speaks volumes to me. The statement also mentions "these invited organizations" will have the right to compete in the US Division and choose their rosters for the 2020 season. This shows that the gears of franchising are well in motion for R6, whether fans like that or not.
What does Ubisoft need to do?
I don't believe Ubisoft needs to show all the cards in the company's deck. I'm a fan of R6 esports and am excited to watch it grow. I want to be surprised and excited when they finally reveal everything they've been working towards.
At the same time, you have pro players with no certainty of their future in an esport they've dedicated themselves to. Ubisoft needs to come out soon and be more open with their decisions regarding pro players and the future of R6 esports. The last thing any Rainbow Six Siege fan wants is to walk into this new exciting era for the scene with such a dark cloud hanging over it.