The Smite Pro League has delivered some satisfying Smite action thus far, and Week 4 has been no exception! This week brought some startling upsets. For starters, Radiance found their actual nemesis in the form of Team Rival, as Rival finally stopped Radiance's win streak! eUnited attempted to outsmart Sanguine but ended up falling short. And Spacestation Gaming secured themselves a place in the middle of the Smite Pro League pack with a victory over Obey Alliance.
Match 1: eUnited vs. Sanguine
This was eUnited's first game with their new support player, Sam "Genetics" Harris. Genetics demonstrated in spades how much potential he could bring to eUnited's roster with Game 1 of this set against Sanguine. Genetics took his Horus pick and ran with it. He used Horus's ultimate in ways no one expected, from a getaway vehicle for endangered teammates, to teleporting his team to unguarded flanks and objectives in an instant. Genetics and his team bamboozled their way to victory using these tactics in Game 1.
Sadly, they couldn't keep this up. In both subsequent games, Sanguine banned Horus in the draft phase, eliminating the chance for Genetics to fool them again. Without his Horus, Genetics struggled with the rest of eUnited to keep up with Sanguine, and kept losing important teamfights. Sanguine ended up taking the set 2-1.
Match 2: Spacestation Gaming vs. Obey Alliance
This was supposed to be the last stand of Obey Alliance jungler Kurt "Weak3n" Schray, who's been struggling along with the rest of Obey to find footing in the SPL's current season. Weak3n announced his departure from the Smite Pro League a day prior:
Today will be my last SPL game of the year. Not quite a retirement, not looking that far ahead but right now the fun is not there in competitive

It was a long 8 years of Pro Smite.

Nothing changes content wise, more Smite if anything and ill be grinding some other games

— Kurt Schray (@Weak3n) April 24, 2020
Unfortunately, this match didn't quite go out on the bang that Weak3n and the rest of Obey Alliance wanted. Every time Weak3n and company were able to get kills in Game 1, Mohaned "Cherryo" Dewedar was able to answer back and then some. Consequently, SSG were able to take objectives out from under Obey's nose, and finally overwhelmed them by the end of Game 1. Game 2 followed a similar pattern, with Obey gaining a decent lead early game advantage, but SSG quickly snatching control back by mid-game and finding the victory over Obey to win the set 2-0.
Match 3: Radiance vs. Team Rival
Titans clashed, both literally and figuratively, in this match. Radiance went into this set undefeated, but Team Rival found dents in their armor and handed Radiance their first ever loss for Season 7 of the SPL. However, not only did Team Rival win this matchup, they flat-out dominated. Game 1 saw some overconfidence on the part of Radiance, and Team Rival clearly took advantage of it as they punished Radiance's early mistakes. A couple of Fire Giant buffs later, they successfully sieged Radiance and won Game 1.
You'd think Radiance would be able to answer back in Game 2, but their first ever game loss must've shattered their morale. Team Rival was even more dominant in Game 2, as Samuel "Sam4soccer2" Waxman pulled out an insane game-winning play at the very end to send Radiance packing with their first ever set loss. C-c-c-c-combo breaker!
Match 4: Pittsburgh Knights vs. Renegades
It was a battle to see who'd occupy the bottom of the standings, as both the Pittsburgh Knights and Renegades didn't exactly have winning records prior to this set. The Pittsburgh Knights ended up coming out on top in this set. This was thanks to some smart drafting phases and shutting down some high profile players on Renegades, especially Jacob "AwesomeJake408" Amaniera.
Game 1 was a fairly quick game in favor of PK, as they clinically prevailed over Renegades with all of their own objectives standing. Game 2 saw some signs of life from Renegades, but after the early game, PK were still able to run away with a gold and experience lead, and take the set in convincing 2-0 fashion.
Match 5: eUnited vs. Spacestation Gaming
SSG must've watched eUnited's set against Sanguine, because they acted quickly to take Horus away from Genetics in both games. However, Genetics' answer for this set was "no Horus? No problem!" Game 1 showed Genetics' versatility as a support player with a Terra pick. But he wasn't the only one on eUnited who popped off. Some back and forth battling later, Tyler "Hurriwind" Whitney pulled off a near-impossible base defense and got himself a quadra-kill! This enabled eUnited to counter-attack immediately and secure Game 1.
eUnited earned a far more decisive victory in Game 2. SSG had an early kill lead, but eUnited answered back with tight objective control. This enabled eUnited to stay ahead in gold and experience, and a few team fights in eUnited's favor later, they edged out another victory, and took the set 2-0 over SSG.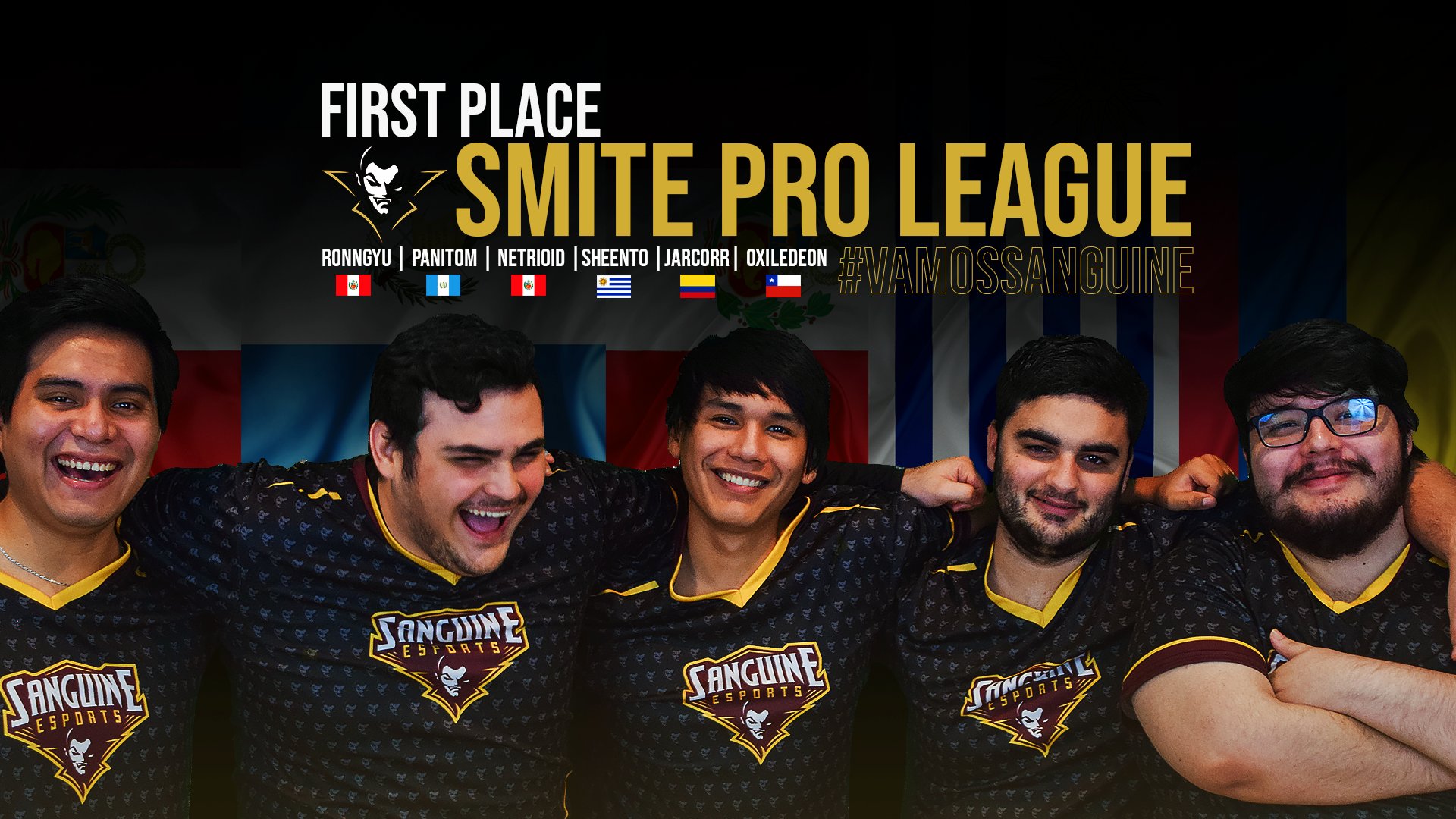 Match 6: Pittsburgh Knights vs. Sanguine
Sanguine secured their space at the top of the Smite Pro League leaderboard with their victory over the Pittsburgh Knights this set. PK knew in Game 1 they had to hit Sanguine hard and fast to punish them for their weak early game play. Unfortunately this wasn't enough to outpace Sanguine, and a couple of stolen objectives later, Sanguine leveled the playing field. From there, Sanguine brought the pace of the game to a slow burn, and their pacing brought them an eventual Game 1 victory.
Game 2 was more of the same. Even though Steven "Zapman" Zapas was able to help PK secure an early lead thanks to his Morrigan pick, Sanguine were able to answer back later on. Again, Sanguine's ability to control the pace of the game proved PK's downfall, as waves of Fire and Oni Minions turned into winions, enabling Sanguine to take the set.